previoulsy was the rescue diver course
Divemaster?

Basic element of the PADI system and of any dive center, the divemaster leads underwater tours, manages emergencies, helps the instructor...
You'll be able to work in the dive world and get a salary, almost everywhere on this planet.
You're going for quite an human adventure. You'll learn to deal with all aspects of a dive center everyday life (diving, commercial, technical), and discover the Mangily village (and this is something!). You'll meet a lot of people and become a heart member of the Atimoo dive center...
We prefer you to stay longer than the minimal two weeks, stay one month or more... no max!
The course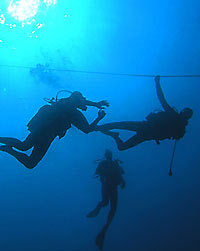 Theory : 13 chapters (supervising certified divers, assisting student divers, decompression theory...), final exam .
Practice : water skills and stamina, rescue of an unresponsive non-breathing diver underwater, demonstrate skills, practical training (mapping, equipment exchange...),practical training exercises (demonstrate skills for open water students in confined water, drift dive of the advanced open water course.. .plus one or two special that will make you a more complete human being! .
The divemaster session lasts between two weeks and one month, depending on you, us and the weather.
Current price : 2,160,000Ar /480€
Whole cursus
This course is for complete beginners, or mere Open Water Diver or CMAS level 1, willing to get fast to the Dive Master.
This is a two months course, the first on dedicated to the Open Water, Advanced and Rescue, the second to the Dive. If the weather allows it, we can have it done in 45 days.
The price of this course is 5,850,000Ar /1,300€ including certifications etc. But you'll have to buy the DIVEMASTER Kit, at around €250. DSD (Discover Scuba Diving) option + €90
Valid any months of the year but August
Entertainment
There are many bars in Mangily to drink a glass on evenings. Some restaurants organize small shows with local artists. One or two discos on the main road will lead to the end of the night. There is a small library if you prefer reading. Bring books anyway, they'll delight the greedy local readers
And you have all Madagascar to know! You can, as often as you like, interrupt the session to explore this incredible end charming country. That's why we think you need to plan a 3 months long session : two for the course and one for discovery !
eLearning
You can learn all the theory an take the examns of the Dive Master course at home, by internet, thanks to the PADI eLearning. Click the link and just let it go!