The keys to scubadiving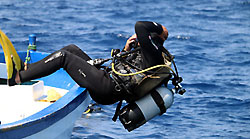 Well, you've done your first immersion, and liked it. Now what? To get autonomy, you'll have to learn a few rules, concerns and possibilities of scuba diving. The PADI courses will make you fully enjoy scuba diving, and even take you to professional level. With our formulas, you'll be no more than 4 students, share the atimoo every day life, live next to the dive center and fully enjoy the village of Mangily. To strengten your skills and keep having fun, you can dive two more months, at club conditions, for free.

Because of the wind, we dive mostly in the morning, and in the afternoon we do the theoretecal part of the formation (course and examns). Pretty soon, for too busy or anxious students, or whoever wants to, we are going to set the PADI eLearning, that give the possibility to do courses and exams on the internet, at home..
PADI formations (Professionnal Association of Dive Instructors)
Scuba Diver
Pre-entry level certification that is perfect for vacationers or people who only plan to dive a couple times a year
You'll learn fundamentals of scuba diving, including dive equipment and techniques, and get the freedom to dive with a buddy independent of a professional. You'll be able to go down to 18 meters.
Adventure Diver
Want to try peak boyancy? drift diving? night diving?
Three courses among so many others available !
After your five dives, you'll be more experienced, feel more comfortable in the water and simply enjoy diving more because you better understand the underwater environment. You'll be able to go down to 40 meters.
Rescue Diver training will prepare you to prevent problems and, if necessary, manage dive emergencies.
First step as a Padi professional diver. A divemaster supervise dive activities and assist instructors with student divers.
Get the whole thing straight to the divemaster in two months
DAN formations (Divers Alert Network)
Oxygen First Aid for Scuba Diving Injuries
How would you manage dive emergencies?
In this course, you'll learn what should be known by all divers.
Updating
Need to refresh your Oxygen First Aid for Scuba Diving Injuries certification ?
- the diving lessons rates -