There are two main seasons in Madagascar : the rainy one from november/december to april/may; and the dry one during the rest of the year. November/december and april/may are great, for they combine the best of the two seasons : no rain and heat. For the east coast, we should say a rainy season (the cyclones one), and a season when it's raining. The south-west coast, where we are, has a semi-desertic climate.There is the season when rain is a possibility, and when it's not. There is no really a bad season, but two seasons with different advantages, and two great interseasons for diving.

So we can dive all year long : usually, we've got only 4 or 5 rainy days in the whole year. Bad years, we have 20.
From May to October, the dry season (it just can't rain).
This is the 'wintertime'. The temperature is about 27°C during the day, and it comes down to 15°C at night. The water is about 24°C. The milky way shows off every night. This is the season for humpback whales to leave the Antartcica and hang around Madagascar. They pass by Mangily-Ifaty, right off the coral reef.NO RAIN, mornings are calm, and south, south-west trade winds blow every afternoon. No wind in the afternoon is as rare as rain, or no stars in the night sky. Because of no rain, rivers bring less dirty muds to the ocean, and therefore the underwater visibility is better (as far as the wind keeps blowing fairly. To sum it up, "cold" and windy season with a good visibility ( 25 m).
From november to april (yes, it can rain).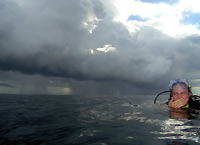 When it can rain, summertime, and what make it special is instability : mostly quiet days, magnificent mornings, no wind at all, storms hanging over the inland, sometimes exploding in the evening in powerful and short rains. Or trhee days in a row without a single cloud, with a well established and moderate south wind. Or, exceptionnaly, three days of tropical depression or hurricane tail (This is the 'less exposed to cyclones' part of Madagascar; just a small tail from time to time), the lagoon looking like the rowing 40ths with only 50 knots winds. The river north, the Manombo, and the river south, the Fiherenana, then carry a lot of sediments and the visibility get bad. You can expect everything. Quiet days give a good underwater visibility, and stormy days a bad one. It is, however, 34°C during the day, and a little less at night. Water is 30°C.

Usually, we've got only 4 or 5 rainy days in the whole year. Bad years, we have 20.