Before that, it was the open water diver course
The course

The advanced open water course is intended to give you experience, new skills, and a better underwater ability, diving in specific conditions.
You'll be able with this certification to dive down to 30 meters, anywhere in this planet.
As there's no better school than practice, we offer you to complete this course with five or ten dives passes at very low prices..
It is a 3, 4 or 5 days session. You must :be 12 years old at least .be an open water diver (or similar) .
The course consists in2 obligatory specific dives, underwater navigation and deep dive; and in 3 specific dives among these : night dive ,drift dive ,underwater photography ,underwater naturalist ,peak performance buoyancy .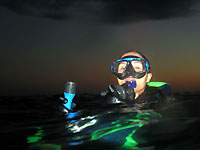 We prefer the night dive, the drift dive et the buoyancy control, that seem the most interesting to us - more useful skills to learn, and more fun.
Before each dive, we study together the specifities and the dangers of it. You complete a knowledge review questionnary. Then we plan and dive together .
You can practice right away your new skills, get more experience, with our 5 or 10 special advanced open water dives passes..
Current price of course, including certification : 275 €
6 dives perfectionnement course : 200 €
10 dives perfectionnement course : 300 €
eLearning
You can learn all the theory an take the examns of the Advanced Open Water Diver course at home, by internet, thanks to the PADI eLearning. Click the link and just let it go!


After that comes the rescue diver course